I often get asked for travel recommendations. In many ways it depends on what people's preferences are – nature versus cities. And everyone's experience of a place varies so much depending on the languages you speak, the people you meet, and the weather. Cities like New York, London and Paris are great destinations and full of interesting experiences, but after  you've done a lot of travelling, they might not seem as exciting compared to going to places you're not as familiar with like Samarkand or Ashgabat. Some people take this to further extremes, announcing they don't want to go to "touristy" places. I generally like touristy places – usually the reason they have many tourists is because they are interesting places. I also have a fondness for history and exploring some of the world's ancient sites. I've been lucky enough to visit more than 100 countries, although there are still plenty of places I haven't been. Here are some of my favorite travel destinations (I'm sure there are others that I've forgotten to include).
10 Favorite Countries
These are some of the most interesting countries I've visited (which doesn't necessarily mean I want to live in these countries). Somewhere like North Korea is one of the most fascinating places I've been, but not somewhere I'd be keen to spend a great deal of time.
Bolivia – The salt plains are amazing and La Paz  is fascinating.
Brazil – A vast country with beautiful beaches.
Cuba – I suspect it has changed a lot since I was there in 2003, but the mix of socialism and its revolutionary history made it a
Egypt – If you like historical sites, then Egypt is hard to beat.
Japan – Crammed full of fascinating culture.
North Korea – The world's strangest country.
Norway – Fjords, glaciers, northern lights.
Peru – Inca empires, lost cities.
Switzerland – Mountains!
USA – In terms of contrasting landscapes and variety of things to do, the US is hard to beat, ranging from Hawaii to Alaska and cities like New York and San Francisco
Other favorites include: Austria, Canada, China, Colombia, Guatemala, Iceland, Iran, Ireland, Italy, Mongolia, Kyrgyzstan, Namibia, New Zealand, Russia, Tanzania, Zambia
10 Favorite Cities
Again, these are favorite places to visit. If I was listing places to live, then Melbourne and Osaka would be on the list.
Berlin (Germany) – Great museums and packed full of interesting history.
Buenos Aires (Argentina) – Tango
Cusco (Peru) – Former capital of the Incan empire
Dubrovnik (Croatia) – Beautiful walled city
Kyoto (Japan) – Temples and shrines
New Orleans (USA) – Voodoo history
New York (USA) – One of the world's great cities
Prague (Czech Republic) – Castles and old streets.
Tokyo (Japan) – The geekiest city in the world.
Venice (Italy) – The most beautiful city in the world.
Other favorites include: Barcelona, Dresden, Edinburgh, Fes, Florence, Florianopolis, Glasgow, Granada, Istanbul, La Paz, Las Vegas, Moscow, Oxford, Rio de Janeiro, Rome, Seattle, San Francisco, Vienna
10 Favorite Scenic Places
Alaska (USA) – Glaciers and forests
Antarctica – Vast whiteness
Namibia Desert (Namibia) – The world's biggest sand dunes.
Rocky Mountain Lakes (Canada) – Lake Louise and Lake Moraine.
Salar de Uyuni (Bolivia) – Spectacular salt plains
Svalbard (Norway) – Glaciers and darkness
Swiss Alps (Switzerland) – mountains!
Tromso (Norway) – One of the best places in the world to see the northern lights.
Uluru (Australia) – It's just a rock, but it is a very impressive rock.
Yakushima (Japan) – greener than green forests.
Other favorites include: Cappadocia, Darvaza Gas Crater, Ferghana Valley, Greenland, Iceland, Kakadu National Park, New Zealand (Waitomo Glowworms), Tasmania, Wave Rock, Yellowstone National Park, Yosemite National Park.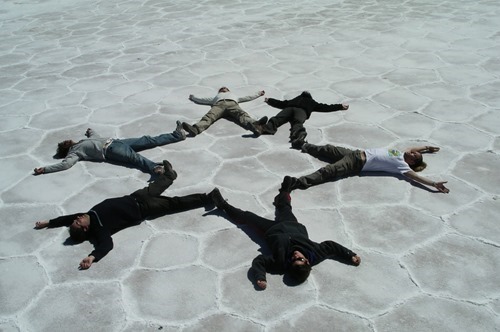 10 Favorite Places to See Animals
Alaska (USA) – Bears!
Antarctica – Penguins!
Bwindi Impenetrable Forest (Uganda) – Hiking up into the mountain forests to visit gorilla families.
Etosha National Park (Namibia) – Elephants, rhinos and lions.
Galapagos Islands (Ecuador) – Unique wildlife,  including giant tortoises, iguanas and birds.
Jellyfish Lake (Palau) – Swim in a lake full of jellyfish
Jigokudani Monkey Hot Spring (Japan) – Monkey hot spring!
Rinca Island (Indonesia) – Komodo dragons!
Rurrenabaque (Bolivia) – There are lots of great places to visit the Amazon Basin. I did a jungle trek in Bolivia.
Serengeti National Park and Ngorogoro Crater (Tanzania) – lions!
10 Favorite Historical Sites
Wonders of the ancient and medieval world.
Abu Simbel (Egypt) – Look upon my works ye mighty.
Angkor Wat (Cambodia)  – Amazing temple complex.
Carcassonne (France)  – One of the most enchanting medieval walled cities.
Luxor and the Valley of the Kings (Egypt) – Tombs!
Machu Picchu (Peru) – Hiking the Inca Trail to arrive at Machu Picchu remains one of the absolute highlights of my travel experiences.
Persepolis (Iran) – Ancient Persian city
Petra (Jordan) – City in the desert
Pompeii (Italy) – Wandering around the ruins of the city is awe-inspiring.
Teotihuacan (Mexico) – Enormous pyramids.
Tikal (Guatemala) – Pyramids surrounded by jungle.
Other favorites include: Alhambra, Ayutthaya, Bath, Beijing's Forbidden City, Chichen Itza, Ciudad Perdida, Colosseum, Ephesus, Fes, The Great Wall, Jerusalem, Marrakech, Masada, Mont St Michel, Neuschwanstein, Palenque, Pantheon, Parthenon, Pont du Gard, Pyramids of Giza, Taj Mahal, Tower of London, Xian Terracotta Warriors