After Uzbekistan, we crossed into Turkmenistan, one of the world's most isolated countries. We made camp at a bush site near Darvaza.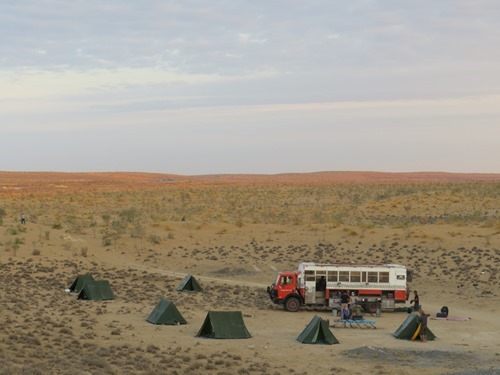 And we saw a spectacular "moon rise".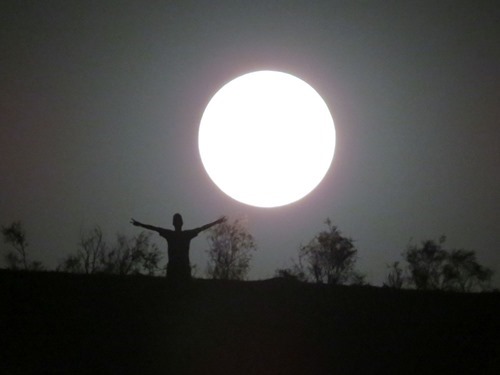 At night we visited the Darvaza Crater – the so-called Doorway to Hell. The crater was one of the most amazing things I've seen. A Soviet drilling team dug the crater in 1971. When it collapsed, they set it alight to prevent the spread of methane gas. The gas has been burning for 45 years. The crater has a diameter of around 70 metres and is about 30 metres in depth. There are no safety barriers at all. Our guide claimed no one had ever fallen in, but I have my doubts about that.
National Geographic article about an expedition into the crater. http://news.nationalgeographic.com/news/energy/2014/07/140716-door-to-hell-darvaza-crater-george-kourounis-expedition/
And then it was on to Ashgabat, one of the world's strangest cities. It's like a giant monument built with oil and gas money, but with hardly any people visible at many of the buildings.
A BBC article describes the city as Las Vegas meets Pyongyang.
Rising from the edge of the Karakum Desert is Turkmenistan's capital city, Ashgabat, a modern metropolis that sparkles and shimmers with a kind of glamour that seems unfitting in time-warped Central Asia. Over-the-top white marble buildings flank wide and empty boulevards, while psychedelic government edifices loom over perfectly manicured gardens. The city is a jumble of lavish golden-domed palaces, Bellagio fountains, neon-lit monuments and Stalinist ministry buildings. From the surface, the city rivals Abu Dhabi or Dubai in terms of opulence and wealth.
The city is also in the Guinness Book of World Records for having the most white marble in any city. http://www.theatlantic.com/photo/2013/06/the-city-of-white-marble-ashgabat-turkmenistan/100528/
One of Turkmenistan's claim to fame was its famously eccentric dictatorial first president. Contrary to what you may have read in fantasy literature, orphans do not always turn out to be heroes. https://www.theguardian.com/world/2006/dec/21/1
As one of a series of measures to establish a personality cult, Saparmurat Niyazov had a gold statue of himself put on top of a building in the capital, Ashgabat. The statue revolves so it always faces the sun. Niyazov, who was appointed president for life in 1999, changed the names of the months in honour of members of his own family. His father died in the second world war and the rest of his family was killed in an earthquake that levelled Ashgabat in 1948. Niyazov was raised in an orphanage and later in the home of distant relatives… Niyazov outlawed ballet and opera and banned men from listening to car radios; he also banned the use of recorded music at weddings and other public events. When he gave up smoking after major heart surgery in 1997, all his ministers had to follow suit, and he banned smoking in public places…Turkmens were supposed to take spiritual guidance from his book, Rukhnama (which translates as Book of the Soul), a collection of thoughts on Turkmen culture and history. The book is required reading in schools, where children must pledge allegiance to him every morning.
The president died in 2006 and the gold statue was moved, but you can still see the giant statue of the president's book in the city centre.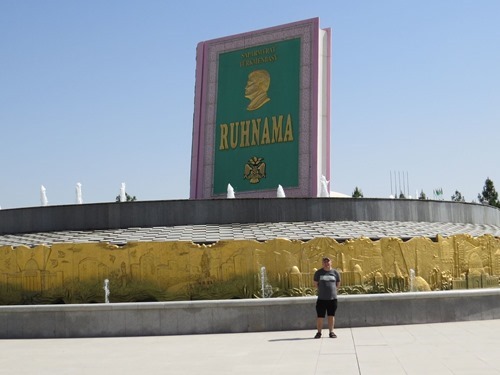 His successor isn't much better. http://www.chrono-tm.org/en/2016/03/turkmenistan-president-lauds-tea-drinking-in-new-book/
Berdymukhamedov, a former dentist who came to power in 2006, has authored several books including works of poetry, a seven-volume encyclopedia on local medicinal plants, a biography of his father and a book about horses bred in Turkmenistan.

Gurbanguly Berdymukhamedov, a former health minister and a trained dentist, emerged as Niyazov's successor, running unopposed in a presidential election in early 2007. While he has dismantled Niyazov's personality cult, he has maintained an authoritarian leadership style and has adopted the honorific title of arkadag – protector. No form of political dissent is tolerated.
Turkmenistan's new falcon-shaped airport opened a couple of days before I was due to fly out. It is also a giant monument with not many people using it. http://www.boredpanda.com/turkmenistan-opens-2-3-billion-falcon-shaped-airport/