After the camping tour I ended, I travelled up to Morocco for a week. I had a few days in both Marrakech and Fes (Fez).
I stayed in riads – traditional houses built around garden courtyards, which were both really nice places to stay.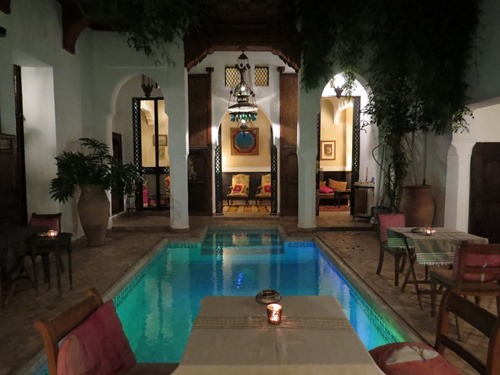 I had a wander around Marrakech's enormous main square and palaces and markets.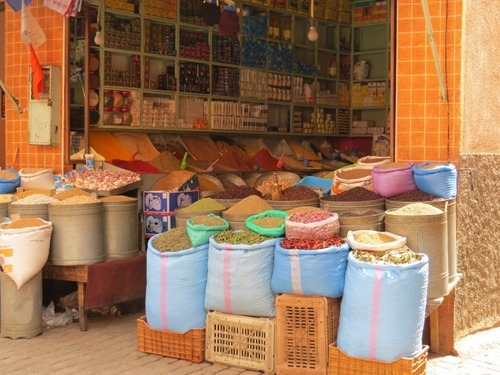 I really liked Fes – it is such a distinctive city. Both Marrakech and Fes have medinas.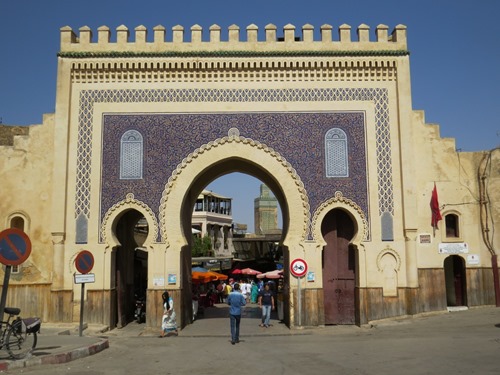 The medina is typically walled, with many narrow and maze-like streets. The word "medina" itself simply means "city" or "town" in modern day Arabic. Medina quarters often contain historical fountains, palaces, and mosques. Because of the very narrow streets, medinas are generally free from car traffic, and in some cases even motorcycle and bicycle traffic. The streets can be less than a metre wide. This makes them unique among highly populated urban centres. The Medina of Fes, or Fes el Bali, is considered one of the largest car-free urban areas in the world. Some medinas were also used to confuse and slow down invaders because of how narrow and winding they are.
http://www.completemorocco.com/destination-types/cities/fes
No motor traffic can manoeuvre through its labyrinth of 9000 alleyways which throng instead with a bewildering variety of people, tribes, costumes and races from the olive-dealers of the Zalagh Hills, veiled women on their way to the hammam, the industrious merchants, water-sellers and artisans, all scurrying to the sound of "balek, balek" as mules, piled high with merchandise, force their way through the sunless tunnels to fragrant souks, accompanied by the clatter of hammers in the Square of the Copper Workers to the stench of the Tanners Quarter and the ever present swarm of humanity.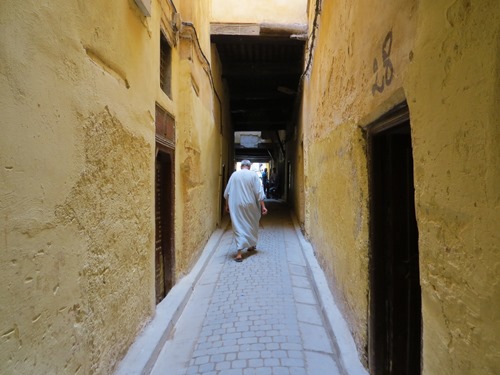 It's easy to get lost in Fes and there are lots of people offering to guide tourists in exchange for a tip.  I preferred to wander around the city by myself though. Eventually I would make it back to the main street to orient myself. As much as I like to consider myself an experienced and independent traveller, sometimes this is closer to the reality.
The tanneries are one of the most popular tourist attractions, but it would be a difficult place to work.
The cats in Morocco are well-trained: