Since I often get asked for recommendations for places to visit in Japan, here are some of my favorite places.
I've found Japan Guide to be one of the most useful web sites for lists of interesting places to visit, along with practical information on how to get there.
Hyperdia is a useful site for checking train connections (especially if you have a rail pass and can't use Nozomi).
If you only have a week in Japan, the most common thing to do is to spend a few days in Tokyo and a few days in Kyoto.
Depending on what time of year you go it is also worth checking out cherry blossoms, red leaves and festivals.
Other activities include staying at a ryokan (traditional Japanese inn) or a capsule hotel and visiting onsen (hot springs). And of course sampling the food. Depending on your interests you might enjoy going to the sumo or the baseball.
TOKYO
One of the world's great cities. Highlights include:
http://www.japan-guide.com/e/e2164.html
Shibuya
It's fun wandering around this neighborhood, marvelling at all the neon. The Shibuya scramble crossing (world's busiest pedestrian crossing) is fun to watch as well.
http://www.japan-guide.com/e/e3007.html
Shinjuku
Home to the world's busiest train station and Blade Runner-like night skies.
http://www.japan-guide.com/e/e3011.html
Harajuku & Meiji Shrine
Worth visiting on a Sunday to see the cosplay kids dressed up near Meiji Shrine.
http://www.japan-guide.com/e/e3006.html
http://www.japan-guide.com/e/e3002.html
Akihabara
Geek heaven – Tokyo's electronic district. If you have the inclination to visit a maid or butler cafe, this is the place to do it.
http://www.japan-guide.com/e/e3003.html
Tokyo Skytree
New observation tower that gives a great view of one of the biggest cities in the world.
http://www.japan-guide.com/e/e3064.html
Sensoji Temple
One of Tokyo's most popular temples.
http://www.japan-guide.com/e/e3001.html
Tsukiji Fish Market
World's biggest fish market.
http://www.japan-guide.com/e/e3021.html
Robot Restaurant
Giant robots! If Michelin awarded stars for robotics, this would be the world's greatest restaurant.
http://www.shinjuku-robot.com/pc/system.php?lng=en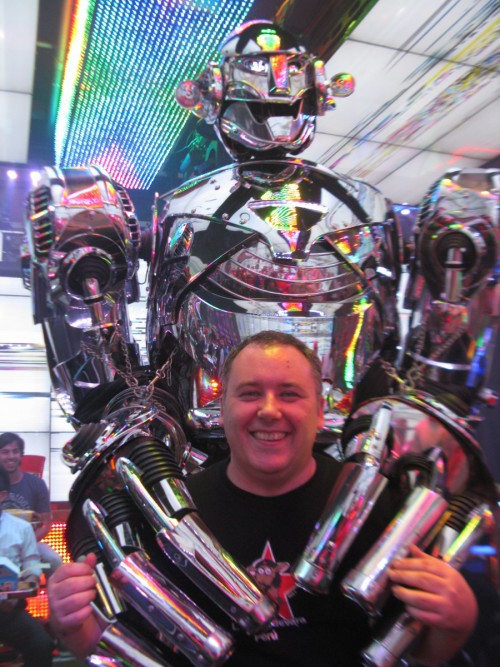 Ninja Restaurant
Food always tastes better when it is prepared by ninjas.
http://www.ninjaakasaka.com/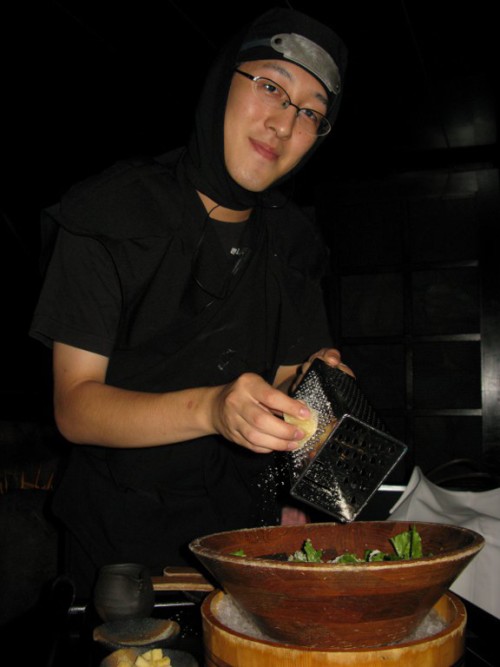 Ghibli Museum
Giant Totoro! Worth a look if you're a fan of the Ghibli movies.
http://www.ghibli-museum.jp/en/ticket-information/
http://www.japan-guide.com/e/e3041.html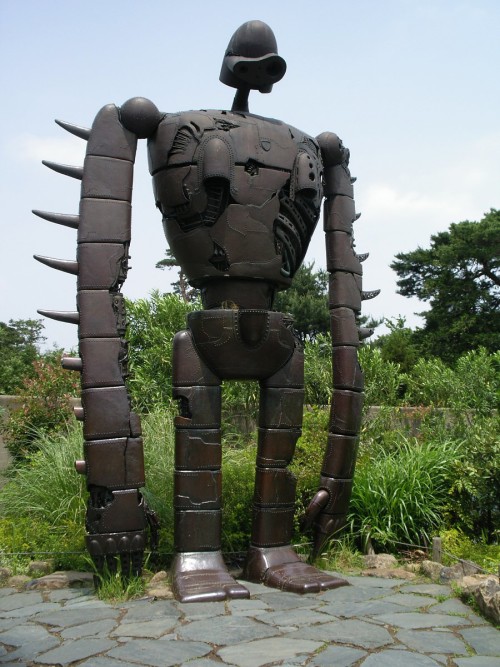 Meguro Parasite Museum
Giant tapeworms! Creepy fun.
http://www.kiseichu.org/Pages/einfo.aspx
Mari Car
Racing around the streets of Tokyo in a go-kart while dressed as Mario is soooo much fun.
http://maricar.com/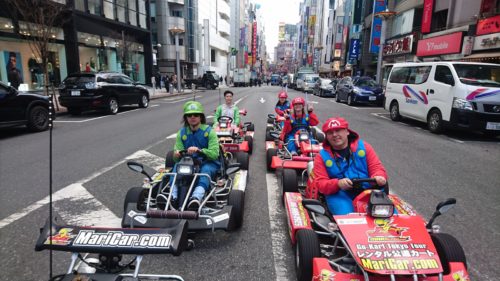 Hedgehog Cafe
Meet cute hedgehogs.
http://www.harinezumi-cafe.com/cafe-english/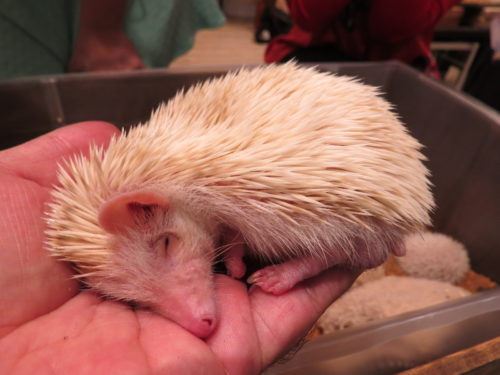 Owl Cafe
Meet owls.
http://akiba2960.com/
TOKYO DAY TRIPS
Nikko
Home to a shrine dedicated to Tokugawa Ieyasu and the carving of the 3 wise monkeys.
http://www.japan-guide.com/e/e3800.html
Kamakura
One of Japan's old capitals. Lots of shrines and temples.
http://www.japan-guide.com/e/e2166.html
Hakone
Views of Mt. Fuji (weather permitting) and hot springs.
http://www.japan-guide.com/e/e5200.html
Nokogiriyama
A bit difficult to get to, but a great hike with stunning views.
http://www.japan-guide.com/community/mfedley/report-1444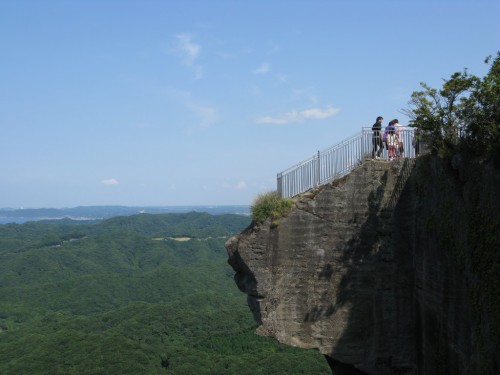 ---
KYOTO
Shrines! Temples! Shrines! Temples!
http://www.japan-guide.com/e/e2158.html
Fushimi Inari
You've probably seen photos of Fushimi Inari's thousands of red gates.
http://www.japan-guide.com/e/e3915.html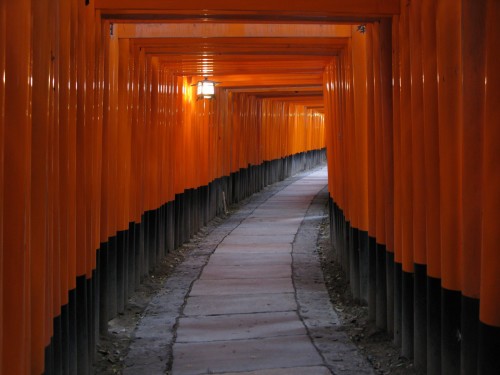 Kiyomizudera
A temple with a beautiful wooden platform.
http://www.japan-guide.com/e/e3901.html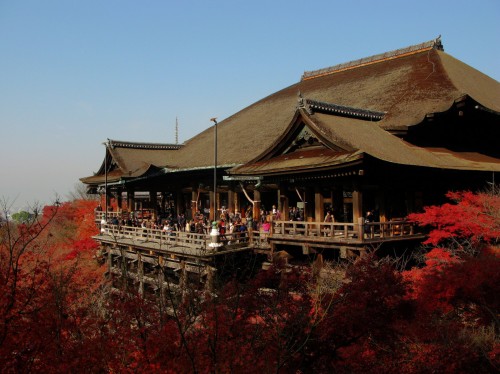 Kinkakuji (Golden Pavilion)
http://www.japan-guide.com/e/e2158.html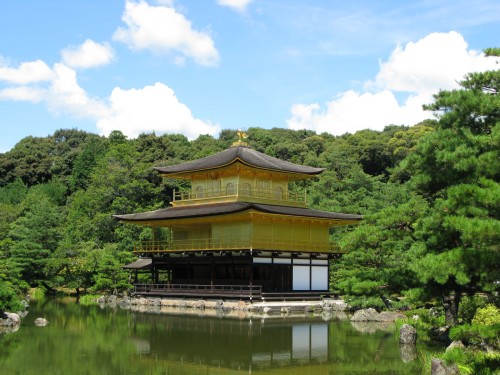 Nijo Castle
More of a palace than a castle – but has the cool nightingale floors.
http://www.japan-guide.com/e/e3918.html
Sanjusangendo
Temple with 1001 statues.
http://www.japan-guide.com/e/e3900.html
Arashiyama
Monkey park and bamboo forests.
http://www.japan-guide.com/e/e3912.html
 Philosopher's Path
A walk along a canal. Spectacular in cherry blossom season.
http://www.japan-guide.com/e/e3906.html
---
OSAKA
I lived in Osaka for 4 years. It's one of my favorite places in Japan, but it doesn't have as many tourist attractions as Tokyo or Kyoto. Wandering along Dotombori is fun and if you like spas, then Spa World is worth a visit. Osaka serves as a good base for day excursions to lots of places.
http://www.japan-guide.com/e/e2157.html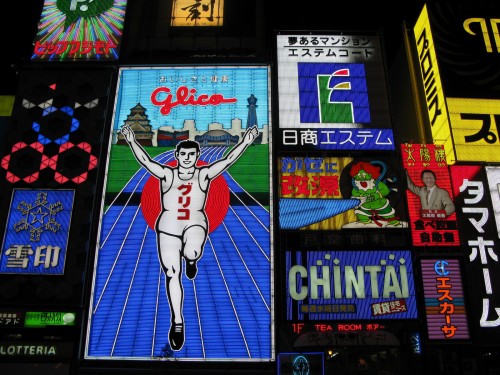 Mt. Koya
Home to one of the world's biggest cemeteries (corporate graves!). Staying overnight in one of the temples is a great experience.
http://www.japan-guide.com/e/e4900.html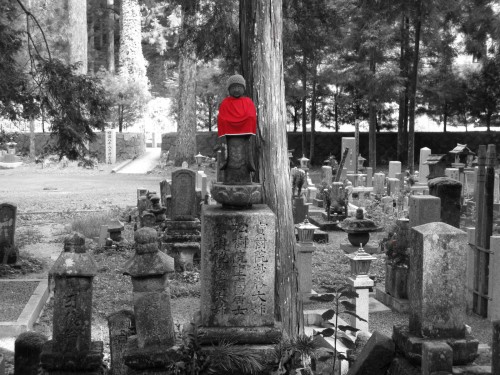 Himeji Castle
Japan's most beautiful castle.
http://www.japan-guide.com/e/e3501.html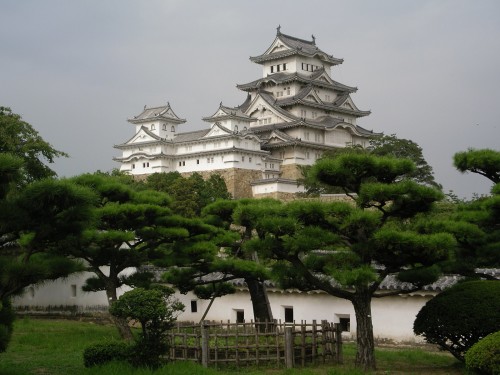 Nara
More temples and shrines and deer!
http://www.japan-guide.com/e/e2165.html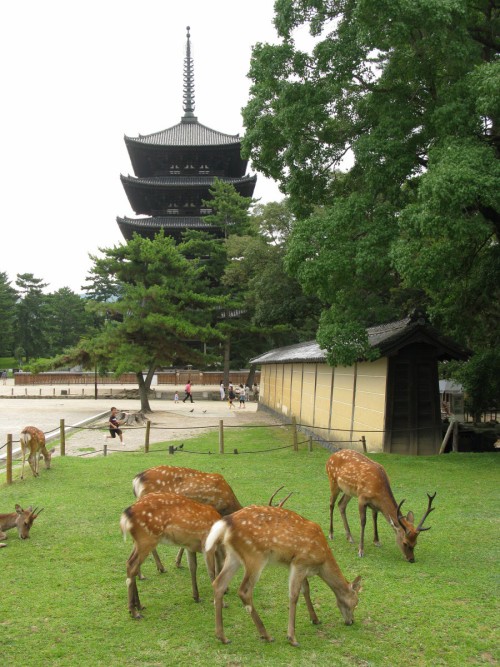 Iga Ueno (Ninja Town)
Ninja museum and ninja shows.
http://www.japan-guide.com/e/e4350.html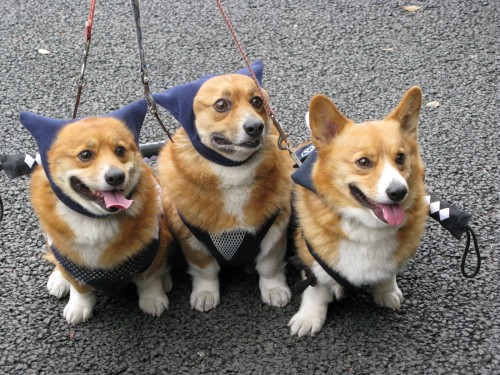 Kinosaki
Kinosaki is a good hot spring town to stay in a ryokan, eat lots of seafood and go to lots of hot springs.
http://www.japan-guide.com/e/e3525.html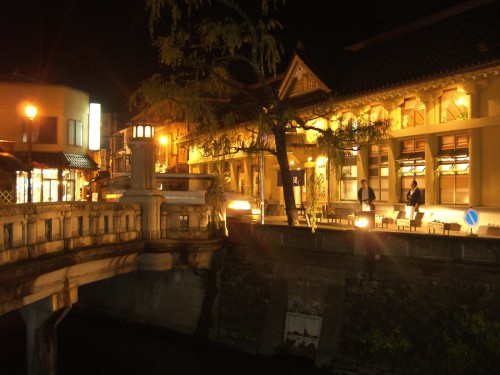 ---
HIROSHIMA
Worth visiting for the Peace Park (atomic bomb site memorial) and nearby Miyajima (famous red gate floating in the water).
http://www.japan-guide.com/e/e2160.html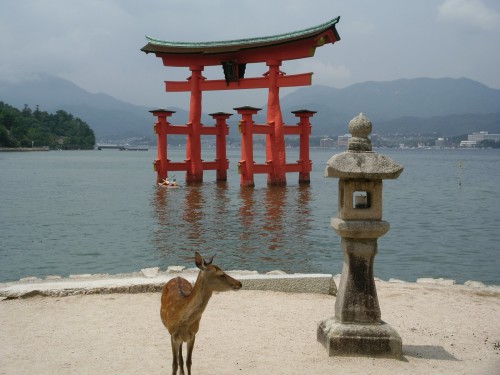 ---
JIGOKUDANI MONKEY HOT SPRINGS
Monkeys! Hot springs! Best visited in winter for the snow, but still awesome the rest of the year.
http://www.japan-guide.com/e/e6028.html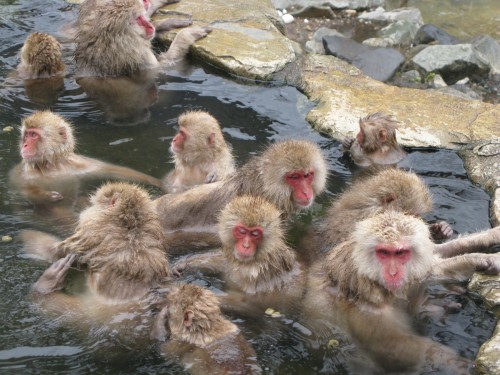 ---
YAKUSHIMA
Out of the way, but one of the most beautiful places in Japan. Islands south of Kagoshima. Has lots of beautiful forest walks.
http://www.japan-guide.com/e/e4650.html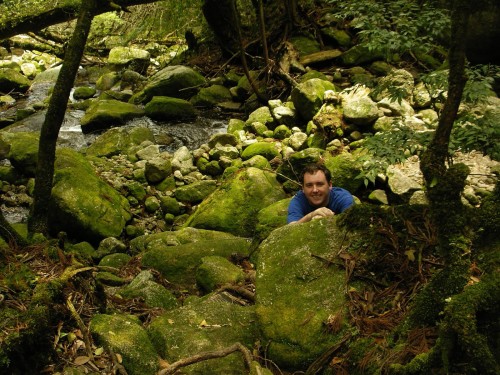 ---
OKINAWA ISLANDS
Scuba diving and beaches.
http://www.japan-guide.com/list/e1247.html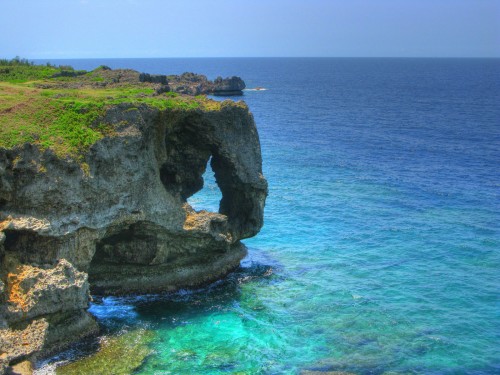 ---
NAOSHIMA ART ISLAND
Island that has lots of art installations and museums. Some great exhibits from Yayoi Kusama.
http://www.japan-guide.com/e/e5475.html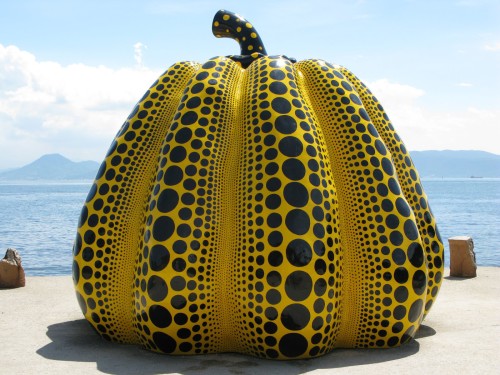 ---
NAGASAKI (AND BATTLESHIP ISLAND)
Bomb site memorial. And you can now visit Gunkanjima (Battleship Island), deserted island that used to be one of the most densely populated places on earth.
http://www.japan-guide.com/e/e2162.html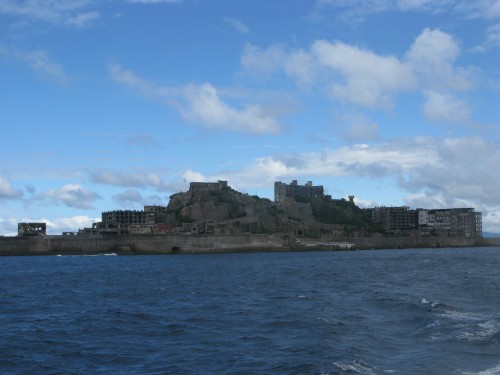 ---
HOKKAIDO
Japan's northernmost island is a popular place to visit in winter for skiing. In summer there are some great hikes. Shiretoko in the north of Hokkaido is especially beautiful (and the setting for my story Hokkaido Green).
http://www.japan-guide.com/list/e1101.html