Like many Australians I've been watching the news coverage of the floods in Queensland.
The most startling footage I've seen has been of the cars zooming down the river.
Although the amount of damage caused by the floods is huge and it's one of Australia's worst ever natural disasters, fortunately the number of people killed is relatively low in global terms.  The death toll is now 16.  In comparison, more than 500 people were killed in floods in Brazil in the last couple of days.  And the floods in Brisbane took place on the one-year anniversary of the Haiti earthquake, where more than 200,000 people died.
The Queensland authorities seem to be doing an excellent job of dealing with the floods.  Compare this to the US response to Hurricane Katrina.  TV footage showed Kevin Rudd (Australia's foreign minister and former prime minister) wading through the water helping people move their belongings and carrying someone's suitcase.  It's hard to imagine George W. Bush or Condaleeza Rice doing that.
The Big Picture has some amazing photos of the Queensland floods from the end of last year.
http://www.boston.com/bigpicture/2011/01/australian_flooding.html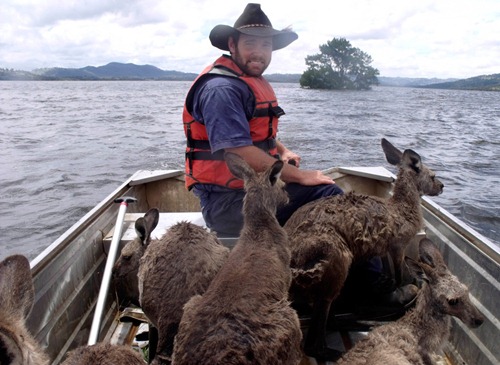 As well as donating directly to the Queensland Premier's Relief Fund there are a couple of anthology fundraising projects.
FableCroft Publishing had planned an aptly named anthology: After the Rain
After the Rain was commissioned in 2010 and is due for release in April 2011. However, in the face of the ongoing flood disaster in Queensland, the authors and I have pulled together this limited ebook version as a fundraiser. The authors have freely given their stories for this use.
The book includes stories by some of Clarion South writing friends.
Another group also has a fundraising anthology planned and is looking for submissions.
http://100storiesforqueensland.submishmash.com/Submit
"100 Stories for Queensland" is a charity anthology to assist the victims of the Queensland floods. Stories are donated by writers from across the globe. 100% of the sales profit will be donated to the Queensland Premier's Flood Relief appeal.
And finally some more photos of the floods that have been circulating on the Internet. (I'm not sure of the original sources).