North Korea hasn't been in the news much, so I thought it was time I updated people on my trip to Pyongyang in October.
It was an interesting time to visit.  The Worker's Party was holding a major conference in Pyongyang to bestow a bunch of official titles (including the rank of general) upon Kim Jong-Il's third son, a move seen as marking him as Kim Jong Il's chosen successor.  Kim Jong Il's oldest son was disgraced when he was caught trying to enter Japan using a false passport.  He wanted to visit Tokyo Disneyland.
While we were there it was also the 20th anniversary of the reunification of Germany.  For all of the talk of wanting Korea to be reunified, no one in North Korea mentioned this anniversary to us.  The reunification was obviously done the wrong way.
And just recently North Korea launched an attack on a South Korean island, the first open attack resulting in civilian deaths since the end of major conflict in the 50s.
The Wikileaks cables have since revealed that China regards Kim Jong Il as a spoiled child and would not oppose a reunified Korea led by the south.
We stayed in two of Pyongyang's two international class deluxe hotels, which are 40+ storey hotels with revolving restaurants.  The other big hotel in Pyongyang is the Ryugyong Hotel, a giant rocket-shaped building.  It has 105 floors and construction began in 1987.  If it had been finished on time it would have the tallest hotel in the world. (There's a taller hotel in Dubai now).  After the collapse of the Soviet Union, money to finish the hotel ran out and work stopped in 1992.  The building looks almost finished from the outside, but it's unknown what it is like inside.  The hotel sat idle for 16 years and then in 2008 an Egyptian telecommunications company started work on finishing construction.  It's supposed to be finished in time for 2012 (100th anniversary of Kim Il Sung's birth).
Pyongyang has big wide streets, but there is hardly any traffic.  Very few people own cars.  There are some crowded buses and trams and a metro system but most people get around by walking or riding bicycles.  Some of the old public buses in Pyongyang are marked with red stars on the side.  A star is awarded for 5000 km of accident-free travel so if you're ever catching a bus in Pyongyang, make sure you look for one with a few stars – but not too many.
We went for a ride on the Pyongyang Metro, the deepest metro in the world.  There are even portraits of the great leaders in the carriages.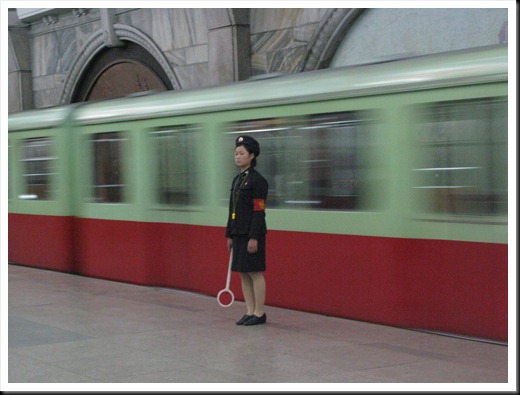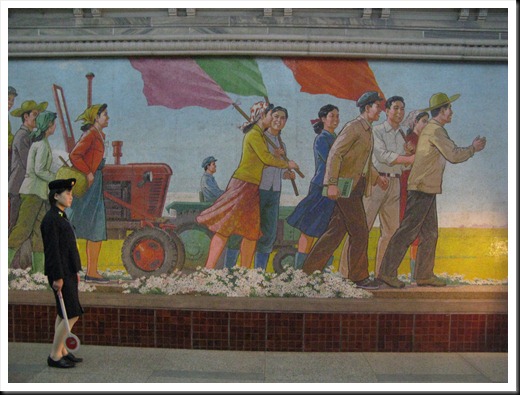 We also visited the Joint Security Area on the border.  I visited this area from South Korea a few years ago, it was interesting to see it from the other side.  The security for tourists on the southern side is a lot more strict.  The southerners are a lot more concerned about attacks from the northerners than vice versa.
A North Korean soldier briefed us on the best place to strike back at the imperialists and their lackeys.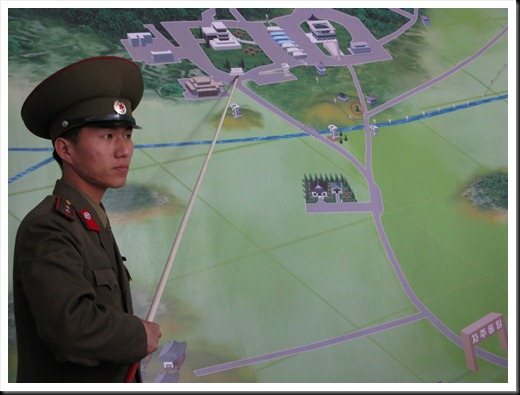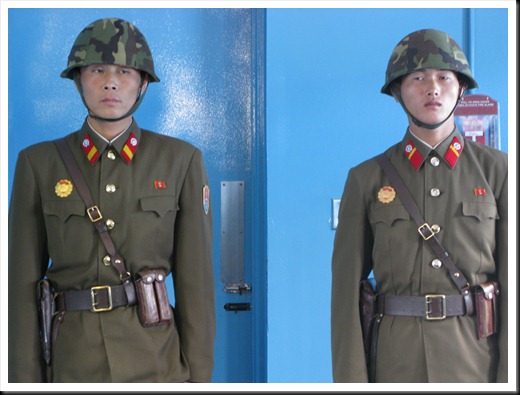 Life is obviously difficult for many North Koreans and their society is very controlled.  But that does not mean everyone is grim and depressed.  We encountered a large group of old people dancing in a public park.  They insisted that we dance with them.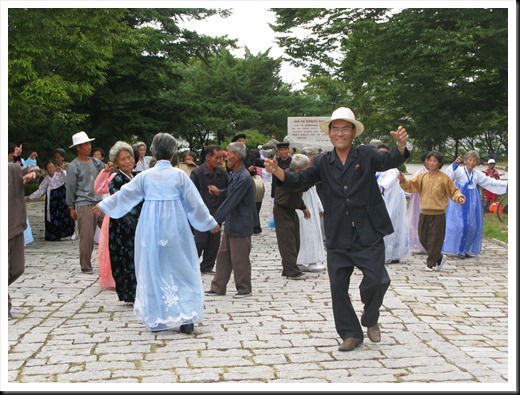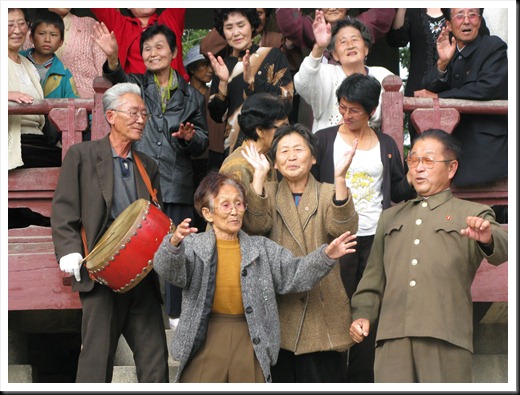 We also visited an amusement park in Pyongyang that puts Melbourne's Luna Park to shame.  (Admittedly not a difficult task).
The Oppressed People of Pyongyang enjoy a night on the rollercoasters.