I recently spent five glorious days at the World Science Fiction Convention in Melbourne.
It was my third WorldCon.  Australia has hosted four World Science Fiction conventions (all of them in Melbourne), roughly one every ten years.  I went to the convention in 1999 and when I was in Japan in 2007 I went to the convention in Yokohama.
There were lots of great science fiction writers attending the convention, but the best part was meeting up with lots of friends, especially my Clarion South buddies.  I also met up with some online friends such as Lezli Robyn and Clarionites from previous years for the first time.
There were lots of writers talking on different topics.  My favorite panel was on Hard SF and featured the stellar lineup of Charles Stross, Greg Benford and Alastair Reynolds.  Plus local writer Jeff Harris who also managed to contribute some interesting ideas to the discussion.
Shaun Tan is an artist who has won a swag of awards and he was the Convention's Artist Guest of Honor this year.  He managed to add a Hugo to his list of awards.  Many years ago (1995) I was fortunate enough to have one of my short stories illustrated by Shaun Tan.  The story was published in Aurealis and he did a great illustration of a crusader.  I got the chance to talk to Shaun at the convention and he said that the illustration was one of the very few pieces of artwork of which he had lost the original.  (It got lost in the post).  He signed a copy for me.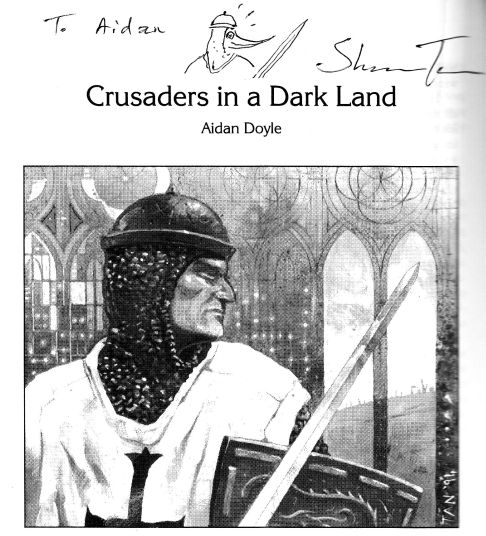 I missed out on the sessions with China Mieville and Gail Carriger and Kim Stanley Robinson, but I'd seen Mieville and Robinson speaking at the Writer's Festival before.  I also got the chance to talk to Cory Doctorow and Peter Watts and had Kaffeeklatsches (basically a drink and a chat) with Jay Lake and Ginjer Buchanan.
I also went to quite a few panels were editors and publishers talked about what they were looking for (no real secrets there), several panels on computer games and a bunch of others including one of wuxia (Chinese martial arts fantasy films).  Given some of the questions that people were asking at the writing information panels, it is apparent that even in the age of Google there are some pretty clueless people out there.
As always there were some people in the audience who thought they were entitled to be on the panel and interjected with boring anecdotes rather than asking questions.  John Scalzi did a great job of moderating the panel I saw him on and Laura Goodin has an excellent post about how to moderate a panel.
She was a lot more organised than the majority of panel moderators I saw – many of them weren't even aware they were moderating panels until they arrived at the panel.  I also heard reports about a panel where afterwards people apologised to one of the international panellists because they were appalled at the behaviour of the local panellists.
I went to the Strange Horizons Tea Party on the Sunday afternoon.  It is their 10th anniversary, which is damn impressive for an online magazine.  I got to meet Jed Hartman, the fiction editor, which is nice as I have a story coming out with them later in the year.
One of my stories won second prize in the convention short story competition and I received an award at the ceremony on Friday night.  We'd been warned beforehand that as there were a lot of awards to get through and not much time, it would basically just involve walking on stage and collecting my award.  No long rambling speeches from me.  Still, it was nice to be recognised at an awards ceremony.  I also got to meet the first prize winner, Helen Stubbs, who is really nice.
It's just a shame it will probably be a long time before the convention is back in Australia.