Cory Doctorow has made the point that although many people complain about being unable to read a novel on a computer, these days most people are comfortable reading equivalent amounts of text on web sites.  One of the problems with reading a novel on a computer is that there are a lot of other distractions.  Email, instant messaging, games and web surfing.  The same is true with writing.
There are many times I've sat down at my computer with the aim of putting in a solid hour of writing to find that after ten minutes I'm reading web sites.  When I had a dialup modem, it wasn't as much as issue.  But with a wireless connection, the Internet is always there.
Some writers such as Charles Stross use a dedicated computer just for writing (no games installed and limited net connectivity).  Jeff VanderMeer goes so far as to ask his wife to hide the modem and not to reveal its location until he's completed a certain amount of writing.
Another solution to this problem is to turn off instant messaging programs and email notifications and hide the icons for web browsers.    There are a few free programs that offer full screen editing mode.  Sure you can always switch tasks and check your email, but the fact that the web browser is hidden from view does make a difference.
Most of the programs available are simple text editors.  You probably wouldn't want to keep your main story document in there.  After you've completed your set writing time, just copy and paste the text into your main file.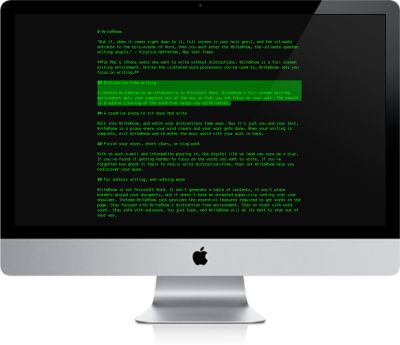 Q10
Q10 is a free fullscreen text editor for Windows.  It's default sound options makes it sound as though you're typing on an old-fashioned keyboard.  (Of course you can turn this off).  It also has a useful alarm option.  Just choose a set writing time (e.g an hour) and then the program will let you know when your time is up and how many words you produced).
CreaWriter
CreaWriter is a another free Windows fullscreen text editor.  It allows you to choose your own background.  The default sound that comes with the program is incredibly annoying.  I'm sure turning that off is the first thing that most people do.
http://www.creawriter.com/
DarkRoom
DarkRoom is a similar free Windows program.
http://they.misled.us/dark-room
WriteRoom
For the Mac, there's WriteRoom, a paid product.
http://www.hogbaysoftware.com/products/writeroom
DarkCopy
If you don't want to worry about installing software, there's a web site that offers a simple full screen editor (although it won't hide your Windows taskbar unless you have set your taskbar to auto-hide).
http://darkcopy.com/