I only stayed a couple of days in Belarus and then took a night train to Kiev in Ukraine.
(Where are all these countries? Here's a map)
Lonely Planet books tend to exaggerate, and the chapter on Ukraine is particularly prone to extolling the country's wonders in terms that aren't warranted.  It's unfair to compare countries, but after visiting Russia, I was disappointed with Ukraine.
Kiev has a lot of nice churches, but I found it a difficult city to navigate and not a particularly friendly city.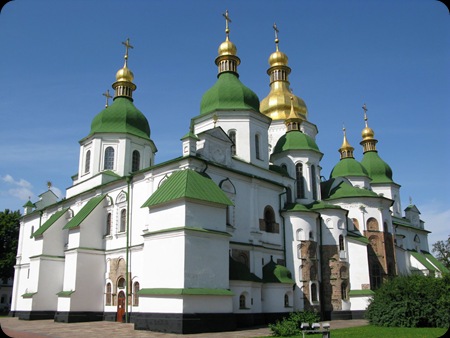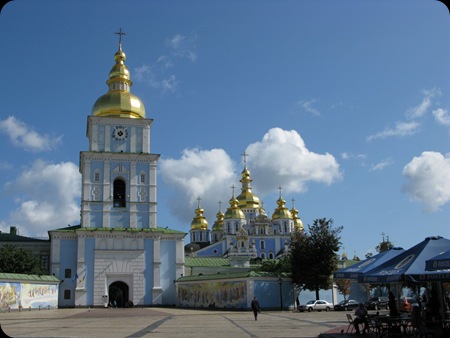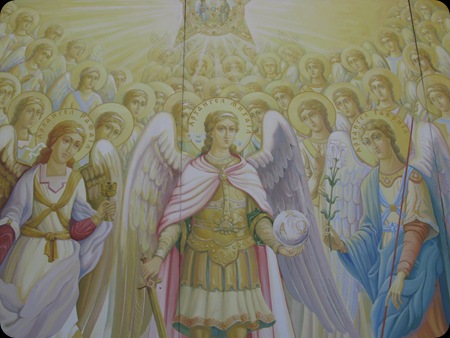 Ukraine and Belarus bore the brunt of the 1986 Chernobyl nuclear disaster.  Approximately 6% of Ukraine remains contaminated and the continuing cleanup action still consumes about 5% of Ukraine's annual budget.
It's possible to do day tours of Chernobyl from Kiev.  The tour companies assure people that even though they visit areas that have higher than normal levels of radiation, it's completely safe.  I was tempted, but the tours are very expensive and they didn't have tours running the day I enquired.
I did visit the Chernobyl Museum.  There was little information in English, but they did have some interesting looking mannequins.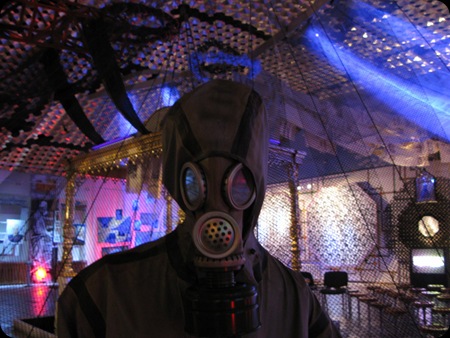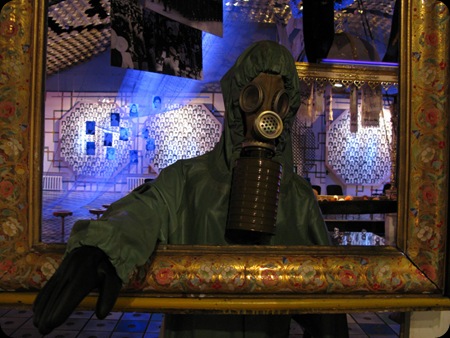 Kiev also has some colourful tanks left over from the war.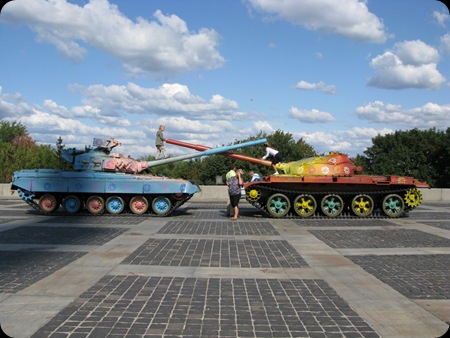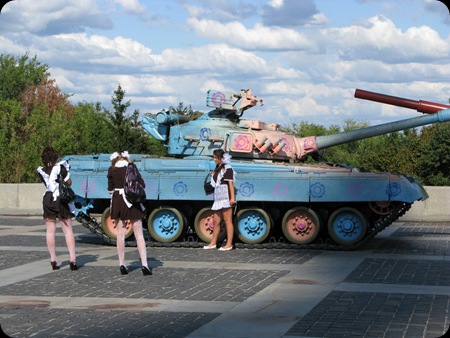 Most people In the east of Ukraine speak Russian and in the west most people speak Ukrainian.  Although the languages are similar there are lots of differences.  For example, Kiev is the Russian name of the capital.  In Ukrainian it's Kyiv.
Lviv in the west of Ukraine is regarded as the country's cultural and artistic capital.  It's further away from Russia than Kiev and Ukrainian writers and artists went there because they had more freedom.  In Lviv you can buy t-shirts that read in Ukrainian, "Thank God I'm not a Muscovite."
The hostel I stayed in had an old portrait of Lenin that had been redecorated.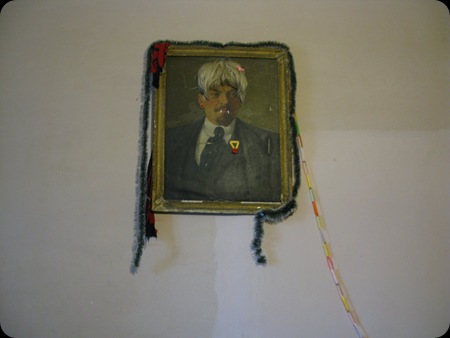 I went to an underground bar that had a bouncer in a uniform holding a pretend machine gun.  To gain entry you had to tell him the password (Glory to Ukraine in Ukrainian) .
I also visited Kamyanets-Podilsky, a small town that has an impressive castle.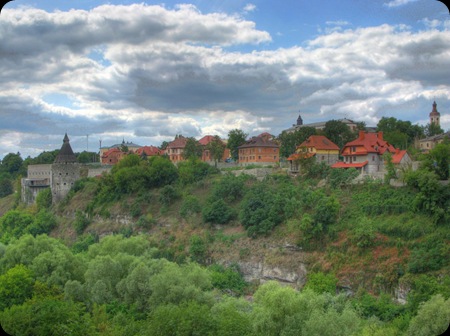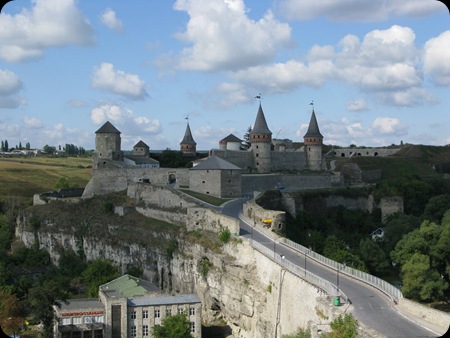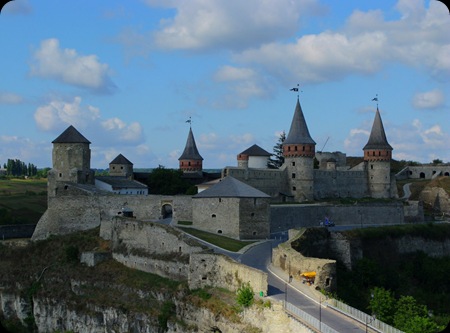 There were some interesting warning signs around the castle.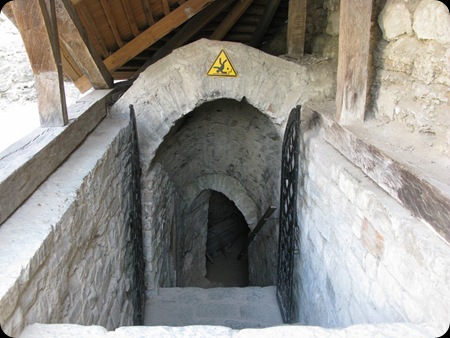 I didn't think they were half so funny when I was climbing up a set of wooden stairs leading up the tower and realised how badly maintained the steps were.
The signs got even more dramatic.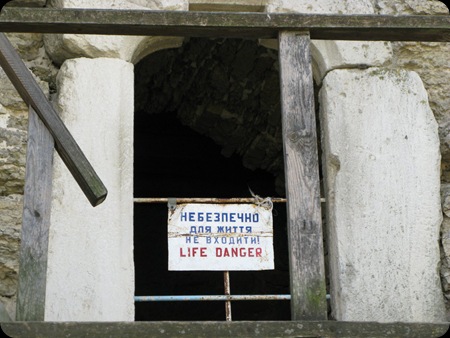 Odessa is in the south of Ukraine.  It's one of those places that most people don't know much about, but it has a cool sounding name.  It sometimes turns up in book and movie titles (The Odessa File, Little Odessa) and its a vibrant city with a culture different from the rest of Ukraine.  Odessa reminded me a bit of the different feel Osaka has from Tokyo.
Odessa doesn't have many tourist sights, but the so-called Potemkin steps are a popular place to visit.  They feature in the much-imitated scene from the Battleship Potemkin movie.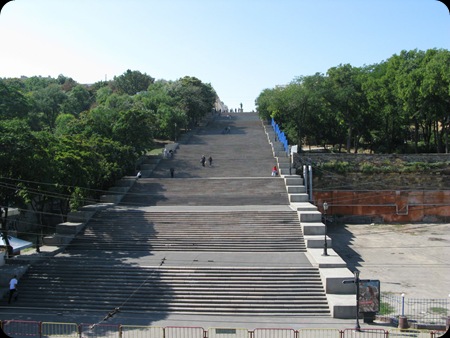 Have fun,
Aidan.