We took an overnight train from Moscow to St. Petersburg, the city of the Russian czars.
St. Petersburg has lots of grand buildings and canals.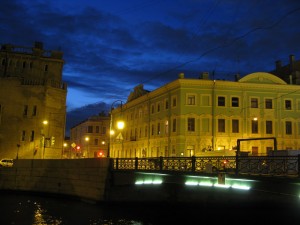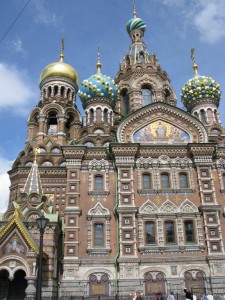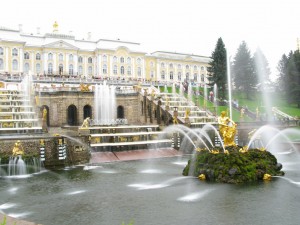 The Winter Palace is home to the Hermitage,  one of the world's biggest and grandest museums.  If you've seen the film Russian Ark, it was filmed in the Hermitage.
It is filled with paintings and statues from all over the world.  The rooms themselves are like the palace of Versailles, with walls decorated in gold leaf.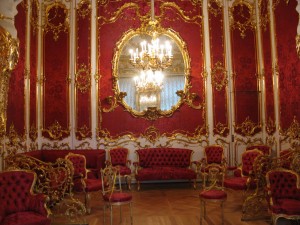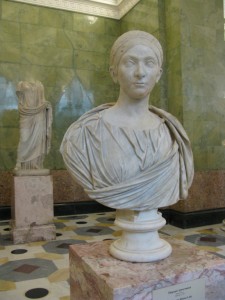 The real reason Russian brides are popular.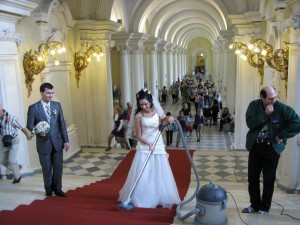 A gravestone with a very relaxed looking representation of the deceased.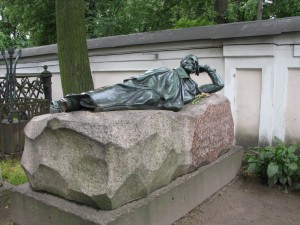 St. Petersburg also has the deepest metro in the world.  There is a super long and steep escalator ride to the platforms.  It takes 5 minutes on the escalator and there are signs asking people not to sit down on the escalators.  You still see people sitting down though.
St. Petersburg suffered terribly during the second world war.  The city was called Leningrad at the time.  The German's besieged the city for 872 days.
More than a million people died during the siege (only at Stalingrad were more lives lost during a siege).
Tanya Savicheva is St. Petersburg's equivalent of Anne Frank.  She kept a diary during the siege.  Her diary only consists of a few pages and basically lists the dates each of her family members died.
Tanya was 11 years old when the siege started and worked digging trenches and putting out fires.
Her sister Zhenya had to walk seven kilometers every day to a factory where she made mine cases and then she would donate blood.
Tanya's diary reads:
Zhenya (her sister) died on Dec. 28th at 12:30 A.M. 1941
Grandma died on Jan. 25th 3:00 P.M. 1942
Leka (her brother) died on March 5th at 5:00 A.M. 1942
Uncle Vasya died on Apr. 13th at 2:00 after midnight 1942
Uncle Lesha on May 10th at 4:00 P.M. 1942
Mother on May 13th at 7:30 A.M. 1942
Savichevs died.
Everyone died.
Only Tanya is left.

Tanya was rescued after the siege was lifted but died of illness shortly after that.
A Russian astronomer named an asteroid after her.
The tour ended in St. Petersburg and most of the rest of the group returned home.  A few are still travelling in different locations.
I stayed in St. Petersburg a couple of extra days and then took the train to Finland.